MANGUSTA 104 REV'S SUCCESS CONTINUES IN THE USA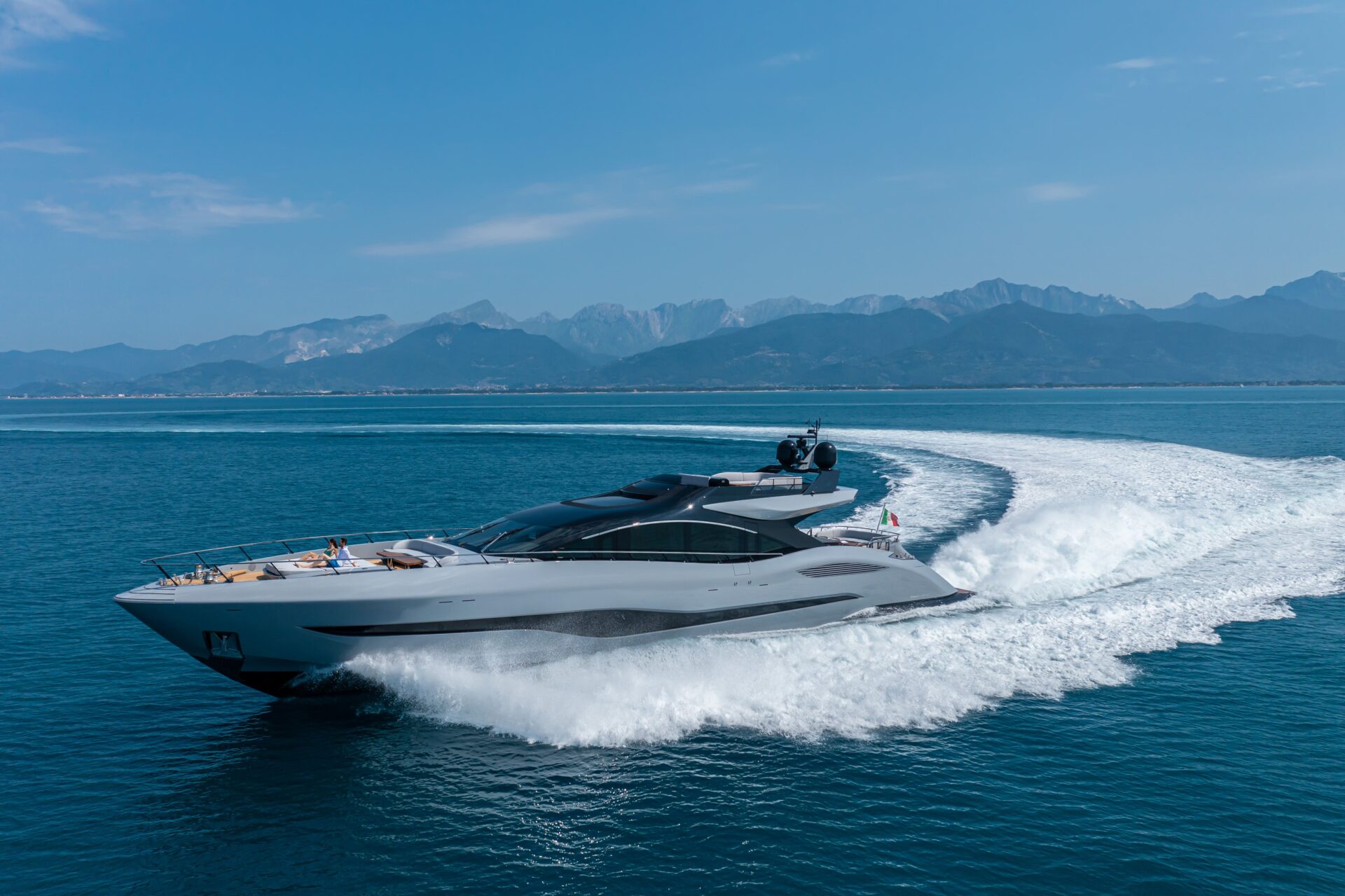 Only a few weeks after launching the second Mangusta 104 REV, Overmarine Group announces today the sale of the fifth unit to yet another American client.
"Once more, the Mangusta 104 REV proves to be a widely appreciated model on the American market. Thanks to its limited draught, this model is indeed incomparably perfect to cruise the shallow waters of the Bahamas and Florida, besides featuring incredibly generous exteriors that allow guests to enjoy onboard lifestyle to the full. The first unit, delivered in Florida last October, won over American clients and soon became an eye-catching icon and a real must-have wherever she was cruising" says Mangusta President Americas Stefano Arlunno.
The sale of this latest unit was secured thanks to precious team work with Henry Schonthal from Brokerage House Reel Deal Yachts, who introduced the client.
The Mangusta 104 REV is the entry level in the iconic Maxi Open range, in which Overmarine has been an undisputed leader for over 35 years, with more than 300 vessels built in this timespan.
This yacht's sporty and slender lines preserve Mangusta's DNA while also reflecting the brand's engineering and design innovation, which stems from the joint work of the shipyard's Engineering Department and design firm Lobanov Design.
The wide glazed surfaces, flawlessly integrated in the yacht's profile, were among the key features behind the choice of this fifth Mangusta 104 REV. Light is the core element that seamlessly connects the interior with the outdoor areas, also thanks to the aft cockpit door, which opens up completely to maximise the concept of lifestyle meant as an unforgettable onboard life experience.
Life in the open air is easy and even more pleasant when spent on the sofa and sun pads arranged at the bow, or on the generous 29 sq. m (312 ft2) sundeck, where a second steering station is found, as well as a sofa, a bar and a barbecue. The full-beam master stateroom and three guest cabins are located on the lower deck. Aft, the garage can fit a tender of up to 5 metres and a jet-ski.
The Mangusta 104 REV is equipped with 2 MTU 16V2000M96L engines and as many waterjets, pushing her to a maximum speed of 35 knots, noiselessly and without the slightest vibrations. At the cruising speed of 30 knots, the yacht has a range of 320 nautical miles. Seakeeper gyro stabilizers allow her to deliver impressive performances and comfort both when cruising, even in choppy seas, and at anchor.
The fifth Mangusta 104 REV will be delivered to her Owner in summer 2023.