MONACO YACHT SHOW 2022 | WORLD PREMIERE THE NEW MANGUSTA 165REV AND MANGUSTA OCEANO 44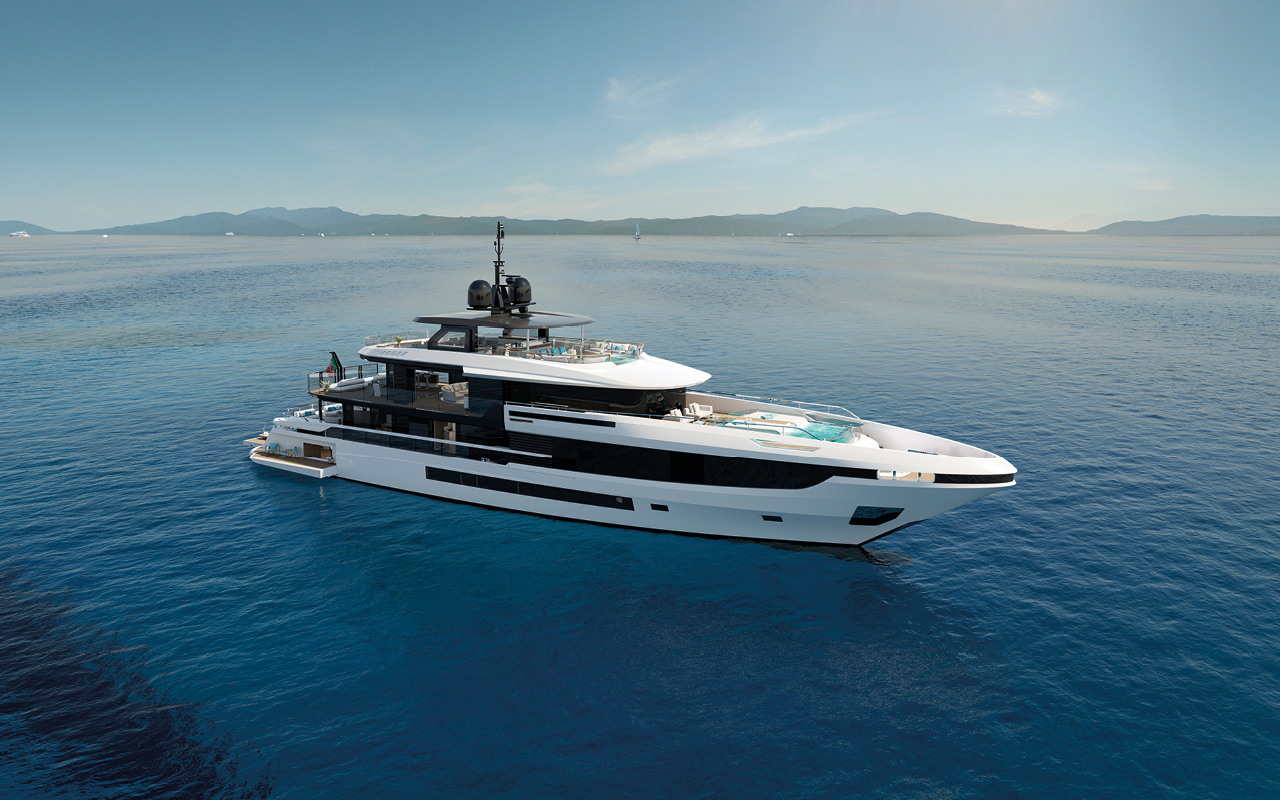 Overmarine Group is taking part in the forthcoming Monaco Yacht Show with two world premieres: the new flagship in the Mangusta Maxi Open and the new Mangusta Oceano 44 - two innovative yachts embodying two different ways of living the sea.
As suggested by her name, 50-metre vessel Mangusta 165 REV literally revolutionizes many of the design and technical solutions found on her predecessor, the Mangusta 165. In the wake of the successful cooperation on the Mangusta 104 REV, the shipyard's Engineering Department has once more teamed up with Lobanov Design, who pencilled her exterior lines.
Compared with the previous series, the Mangusta 165 REV not only stands out for her innovative, iconic design, but also offers a huge 92 sq. m (990 sq./ft.) master stateroom located on the main deck, with large, floor-to-ceiling windows flawlessly integrated in the hull. More ceiling-high glazing can be found in the main deck salon, with doors that open on the sides too, creating a seamless connection between the incredibly bright see-through interiors and two large fold-down balconies. Additional innovative elements on this vessel are the beach club, conceived as a fully-equipped lounge area by the sea; the forward area, fitted with sunpads, sofas and an infinity pool; and the sundeck. Guests will find accommodation in 4 guest cabins and a full-beam VIP cabin.
The Mangusta 165 REV can deliver impressive performances thanks to 4 Rolls Royce 2600 HP MTU engines coupled with 4 Kongsberg-Kamewa waterjets that push her to a maximum speed of 34 knots, noiselessly and without the slightest vibrations thanks to the gyro stabilizers that operate both when at anchor and while cruising.
The Mangusta Oceano 44 - developed jointly by the Group's Engineering Department and designer Alberto Mancini - is an ultra-modern loft where the extensive use of glazed surfaces results in a harmonious continuum between inside and outside. The master stateroom, featuring huge windows and an automatically-operated fold-down balcony, is located on the main deck, while a second master cabin can be found on the upper deck. The lower deck hosts 4 spacious guest cabins, while a new concept of beach club has been developed aft, with fold-down balconies overhanging the sea that can be accessed from three different sides.
The pools is perfect to indulge in complete relaxation: "the Island" is located on the main deck.
Her generous spaces, like the 104 sq. m sundeck (truly unprecedented on a yacht in her class), make the Mangusta Oceano 44 a rare jewel, a real overwater villa to cruise the seas and discover pristine havens thanks to outstanding performances - a range of 4,500 nautical miles, a maximum speed of up to 16 knots, and a cruising speed of 11 knots, always enjoying the unparalleled comfort ensured by zero-speed and underway stabilizers.
Monaco Yacht Show (28 September – 1 October) – Quai des Etats-Unis QE15.
Mangusta 165REV E09 - Mangusta Oceano 44 C07