THE SECOND UNIT OF FLAGSHIP MANGUSTA OCEANO 50 HITS THE WATER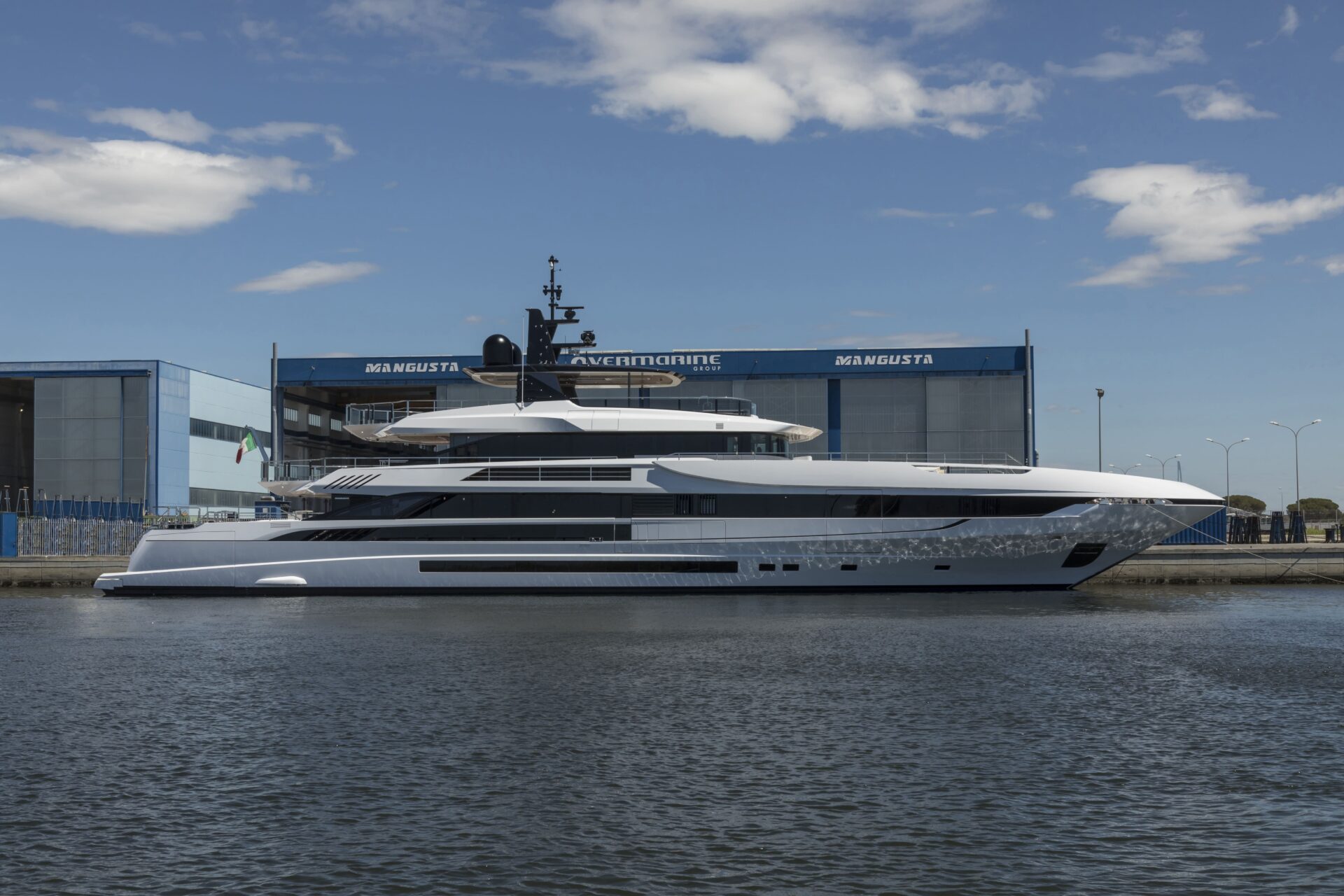 Less than a year after the launch of the first hull of flagship Mangusta Oceano 50, last 7 June in the Navicelli area, in Pisa, Overmarine Group's shipyard christened the second vessel in the series, "Project Verona", built for the American market.
"This launch is the 12th for Overmarine shipyard's metal division, based in Pisa, and will be followed by 2 more over the next few months. We are very proud of the results this division has achieved in the few years since joining the Viareggio one, which builds vessels in composite material", states the Group's CEO Maurizio Balducci.
The Mangusta Oceano 50 line is reaping success not only in the US, but in the Superyacht sector as a whole: the first Mangusta Oceano 50, Alisa, recently triumphed in London at the latest World Superyacht Awards 2022, which are bestowed by highly qualified owners, winning in the category "Displacement Motor Yachts 499GT and Below, 45m and Above".
The Mangusta Oceano 50 is a 499 GT, steel and aluminium displacement yacht designed and developed jointly by the shipyard's technical departments, designer Alberto Mancini, and P.L.A.N.A. Design of engineer Ausonio.
The Mangusta Oceano 50 offers her guests generous interior and exterior spaces. Large floor-to-ceiling windows, some of which can be opened, create a smooth, seamless continuity between the indoor and outdoor areas. Among the latter, the beach area is surely worth a special mention: developing over three connected terraces at water level, it is fully equipped to ensure the closest possible contact with the sea. A large infinity pool can be found forward on the main deck, while a second one is located on the spacious sun deck.
Several interior layout solutions are available. On this unit, the Owner chose a 6-cabin configuration, with the master stateroom located on the main deck and fitted with an exclusive fully-automated balcony overlooking the sea, plus a full-beam VIP cabin and 4 guest cabins arranged on the lower deck.
Interior furniture and furnishings have been designed by Alberto Mancini, who teamed up with the shipyard's technical and interiors departments to develop solutions that would fully embody the requests of the Florida-based Owner.
This vessel is equipped with two MTU 12V 2000 M86, 1700 hp engines that will push her to a maximum speed of 16 knots, with a range of up to 4,500 nautical miles at a cruising speed of 11 knots, to cross the ocean in the utmost comfort.
More units in the Mangusta Oceano 50 series are currently under construction at the Pisa shipyard. The next vessel available for sale will be hull number 6, with delivery expected in summer 2026.
Watch a video of the first Mangusta Oceano 50 unit at the following link: https://www.youtube.com/watch?v=pOUs09zX3eA